2019 Volkswagen Jetta GLI: Like a GTI with a Rear End
April 30 2019,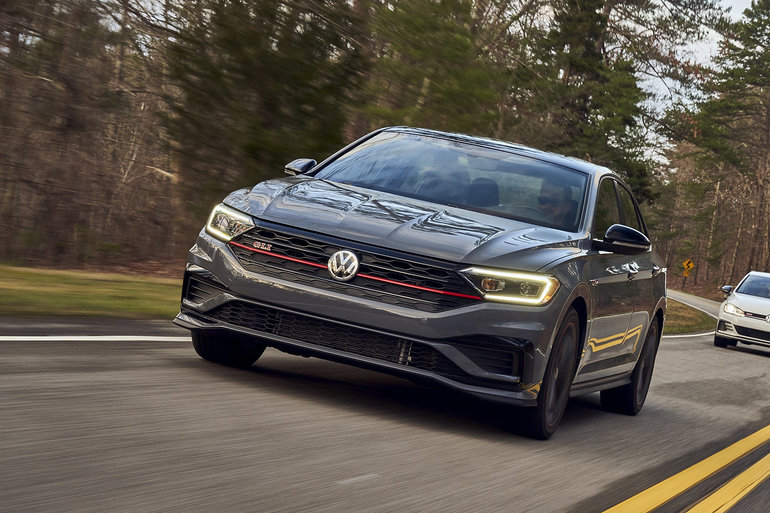 The all-new Volkswagen Jetta GLI was first revealed at the Chicago Auto Show in February of this year. As it's been a few years since a new GLI was announced, it was an exciting moment. And with good reason.
The 2019 Volkswagen Jetta GLI is essentially a GTI with a more stretched out rear end (read: not a hatchback). The 2019 GLI sits on the same platform as the GTI and also shares the same engine specs and transmission options.

What might those be, you wonder?
Well, the 2019 Volkswagen Jetta GLI is equipped with a turbocharged 2.0L 4-cylinder engine that produces 228 horsepower and 258 lb-ft of torque. That can be coupled with either a 6-speed manual transmission or an optional 7-speed dual-clutch automatic. Power is sent o the front wheels, and there is no all-wheel drive option available for the GLI.
From the outside, the 2019 Jetta GLI receives a few aesthetic differences when compared to the regular Jetta. Those differences include upgraded front and rear bumpers, as well as a red stripe that runs across the front honeycomb grille. The Jetta GLI also comes standard with 18" alloy wheels.
Along with a more powerful engine, the Jetta GLI boasts an upgraded active suspension over the regular Jetta. This suspension ensures the GLI is both responsive and comfortable in a sporty tourer kind of way. The sedan can handle itself around the corners, and offers a decent amount of pickup in a straight line thanks to the turboed 2.0L.
As this is the 35th anniversary of the Jetta GLI, there is also a 35th Anniversary edition that adds special badges, unique wheels, and black accents to the overall look.
The 2019 Volkswagen Jetta GLI is a classy, attractive sedan that offers a sporty feel on the road, as well as a comfortable roomy interior that includes amenities like Apple CarPlay, as well as a host of available safety features that include lane-keep assist, emergency braking, adaptive cruise control and park assist.
To find out more about the all-new 2019 Volkswagen Jetta GLI, head down to your local Volkswagen Turner to speak to one of our knowledgeable experts about everything this sporty sedan has to offer, and don't forget to book a test drive, too.